People seemed to enjoy my first set of anecdotes from the mudflats, so here are a few more.
After I finished my undergrad, I stayed on as a research technician for the summer between graduation and the start of my post-graduate degree. It was a lot of fun – I had multiple years of experience, but zero responsibility with project design. In other words, a better paycheck…and a whole lot less work!
Our research lab did a lot of cage work – we'd build them out of bamboo sticks and aquatic netting and then track impacts on diatom and amphipod densities (the primary food sources for sandpipers), and snail movements in control vs treated areas (the netted cage areas prevented plovers and sandpipers from foraging). Setting up semi-permanent cages in the mud required a major team effort. We had to get everything set up during low tide, so it was a race against the clock. Or, more specifically, the gravitational pull of the moon!
One day, we were installing cages about 500 meters offshore. We had huge metal mallets, rebar (also metal), and one very tall lab tech named Colin. It was a warm, overcast and muggy day. At one point another tech looked at me and said, Elisabeth, what's wrong with your hair?
Apparently, my hair was standing completely on end – like I had my hand on one of those statically charged balls at a science exhibit.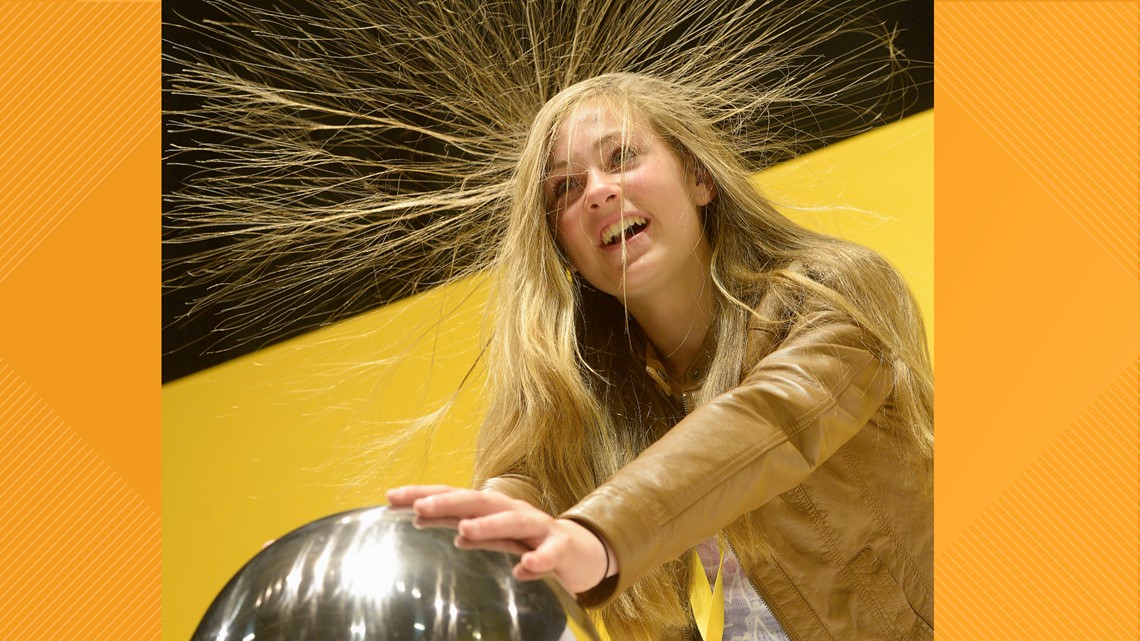 Problem was, I wasn't touching a ball!!! Within seconds, we heard the first boom of thunder.
Here we were in the middle of a mudflat that had only recently been uncovered by the ocean. It was flat. Covered in a thin film of salt water (highly conductive). We were the tallest objects for miles around. We were working with metal tools and supplies. And we were 500 meters away from shore. Our supervisor happened to be with us and gave us the all-clear to drop our equipment and run (knowing that if the storm didn't pass in time, all those tools and supplies would be swept out with the tide).
We managed to find some humour in the situation; as we raced back to shore we were quick to identify that Colin – at least half a foot taller than anyone else – would be the first target in any lightning strike. (Spoiler alert: He survived and went on to become a doctor…but apparently mudflats are pretty dangerous places!)
We had come to the site in two vehicles and one lab tech had taken the second vehicle to another site. So when we arrived back on shore there were 8 of us and one pickup truck. A few people – including me – drew the short straw and had to hunker down in the truck bed.
The storm passed after 30 minutes and we rescued the equipment but it was a real hair-raising experience (sorry, couldn't resist).
---
Working on the mudflats was incredible exercise. It was exhausting but in a good way. The natural resistance of mud, along with walking kilometer after kilometer along transects, all while carrying giant backpacks full of samples (heavy mud and/or water) was an excellent cardiovascular workout. Not surprisingly, mud would splatter everywhere and we came back to the lab absolutely filthy.
It was the early 2000s and I was young and didn't always remember to use sunscreen, especially on my legs. One day we were out for hours and hours and hours and mud had splashed on my legs and dried. When I washed it off that night it looked like I had leprosy. There were giant white spots (in random patterning) ALL over the back of my calves. For the rest of the summer, my legs looked absolutely ridiculous. I wish I still had pictures because I would 100% share them but, alas, I lost most of my photos from this pre-OneDrive era.
---
That same summer, one of my friends and fellow labmates wanted to research nocturnal feeding habits of sandpipers – low tides happen at night, too! Our team received funding to purchase night-vision goggles. But, for obvious reasons, military-grade night vision equipment is not available at the local hardware store. For some reason, I was the one tasked with calling the supplier (who normally dealt with military contracts) to ask: Um…we'd like to purchase some night vision equipment. Why you ask? Just to look at birds. I promise!
Fun fact, John and I had only been dating a few months when he volunteered to come with us on one of those night shifts. For safety reasons (see above and my mud "quicksand" story from last week) we had to have a set number of crew out at any given time, so he trudged to the mud at 2:30 am (unpaid, I might add) with me. True love!
Speaking of John and mud, I might have told this story before, but it's one of my favourites from our love story. When we had only just met and were arranging for our first "date", I asked him to meet me at the lab mid-afternoon. There was a mix-up and I was convinced he had stood me up (he hadn't). In the end, we rescheduled for that evening. I got there very early and selected a microscope right in front of the window so I would look all sciencey. And so it was by design that I was bent over a microscope looking very intense and studious when he walked by the window. He tells me seeing me like that took his breath away and he said to himself: Don't screw this up. We've now been married almost 14 years but I was looking at…NOTHING. It was all a ruse!
---
I planned to continue avian work for my Masters and, for the first few months, actually put together a project in this area of study. But I ended up switching gears to bees. (Yes, I have heard plenty of "birds and bees" jokes over the years.) Because I didn't need a large number of hives for my research – and because the beekeeper providing us with hives lived quite a distance from the university – my supervisor offered to store them on his property. Every day John would drive me in my giant beesuit to collect a fresh set of bees. This all happened while I was pregnant with Abby and battling morning sickness. There is a sickly sweet smell around beehives and it made me very nauseous. One warm summer morning it was more than I could handle…and that's how I came to upchuck my breakfast smoothie all over my supervisor's rhododendrons.* (*I don't actually know if they were rhododendrons; I was too busy barfing to worry about my horticultural proficiencies.)
Fun fact: I only got stung a single time in two years of working with honeybees! I was studying operant conditioning and had to secure individual bees into modified pipette tips. Once, I didn't quite get enough wax in place and the bee managed to wiggle free and straight down into my latex glove where she proceeded to sting me.
Fair enough.
---
Your turn. Any weird workplace stories? Are you a fan of thunder and lightning storms? Any bizarre tan line stories to report?